Dart Boards Cabinets
Clean up after dart night in a snap with a dartboard cabinet that complements your existing board, decor, or busy sports bar.
Our cabinets are ready to accept your old board while providing storage for darts, scoring sheets, and rules. Available in compact models perfect for your man cave or rich wood that echoes your dining room design. Choose one decorated with your favorite NFL logo!
It only takes a moment to click, pay, and ship your new dartboard cabinet to your door, or swing by our Las Vegas showroom and take it home today.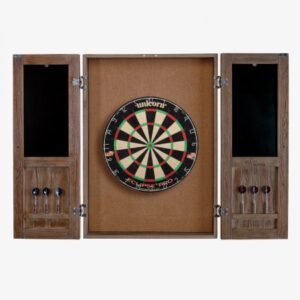 Showing all 22 results
Dart Boards Cabinets