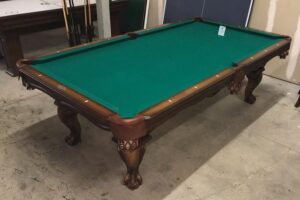 Handling pool tables alone is dangerous. There is a risk of personal injury, and pool tables can easily get damaged or have seams pop. Similarly, moving shuffleboards and other sizeable game room assets can be equally challenging.
We provide comprehensive moving services for all game room items, be it from one home to another or from business to business. Our seasoned team ensures a smooth transition by dismantling, safely transporting, unloading, and expertly reassembling each product.
Need Storage Solutions?
Starting on a home renovation or planning a brief relocation? We've got you covered. Our temporary storage solutions are perfect for those remodeling phases or short-term moves. We'll carefully relocate your items to our secure storage facilities, and once you're set, our team will reassemble them in your desired location. Trust us for an end-to-end, seamless, safe moving and storage experience.